SING THIS AT MY FUNERAL: A MEMOIR OF FATHERS AND SONS
In Sing This at My Funeral: A Memoir of Fathers and Sons, David Slucki tells the story of his father and his grandfather, and the grave legacy that they each passed on to him. Jakub Slucki, a Holocaust survivor whose first wife and two sons had been murdered at the Nazi death camp in Chelmno, Poland, had lived a turbulent life marked by grief, upheaval, and recovery. His son Charles Slucki—Shmulek in Yiddish—was named either after Jakub's eldest son or his slain grandfather—a burden he carried through his life. The traces of these relatives were a constant in the Slucki home, a cottage in inner-city Melbourne that became the lifeblood of a small community of Jewish immigrants. Sing This at My Funeral interweaves the stories of these men with that of Slucki's own more tranquil upbringing, showing how traumatic family histories leave their mark for generations and asking what it means to raise young men in the wake of such great suffering.
Praise for Sing This at My Funeral
"Sing This at My Funeral is a compelling memoir, crafted with great artistry: an eloquent meditation on fathers and sons, the forces that shape them, and the impact of grief and trauma over the generations."
—Arnold Zable, novelist, writer, and human rights advocate
"Brick by loving brick, Slucki builds a lyrical bridge of time, over which dybbuks and specters of memory may come to pass. Sing This at My Funeral is more than a son's tender tribute to a remarkable man. It is a profound meditation on what it means to father and be fathered."
—Bram Presser, author of the National Jewish Book Award–winning The Book of Dirt
"Slucki's memoir is a gutsy reckoning with ghosts. Like the best stories, it features complex characters and a curious narrator who is not afraid to keep digging. Slucki's voice is compassionate, sharp, and relentless. A page-turning family narrative that is both highly personal and highly relatable."
—Sofija Stefanovic, author of Miss Ex-Yugoslavia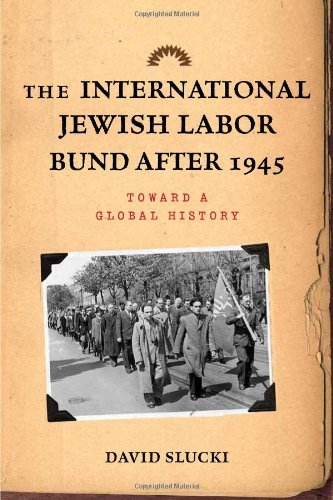 THE JEWISH LABOR BUND AFTER 1945: TOWARD A GLOBAL HISTORY
The Jewish Labor Bund was one of the major political forces in early twentieth-century Eastern Europe. But the decades after the Second World War were years of enormous difficulty for Bundists. Like millions of other European Jews, they faced the challenge of resurrecting their lives, so gravely disrupted by the Holocaust. Not only had the organization lost many members, but its adherents were also scattered across many continents. In this book, David Slucki charts the efforts of the surviving remnants of the movement to salvage something from the wreckage.

Covering both the Bundists who remained in communist Eastern Europe and those who emigrated to the United States, France, Australia, and Israel, the book explores the common challenges they faced—building transnational networks of friends, family, and fellow Holocaust survivors, while rebuilding a once-local movement under a global umbrella. This is a story of resilience and passion—passion for an idea that only barely survived Auschwitz.
Praise for The International Jewish Labor Bund after 1945
"This unprecedented, well-researched, and thoughtful book will be of interest to Jewish studies scholars and to scholars working on the history of socialist movements."
— Jack Jacobs, The Graduate Center, CUNY
"The International Jewish Labor Bund after 1945 offers intrguing insights about how a movement so deeply rooted in the Yiddish-speaking working masses of Eastern Europe struggled to find a new role and fashion a new identity in the aftermath of the Holocaust."
— Samuel Kassow, Trinity College
IN THE SHADOWS OF MEMORY: THE HOLOCAUST AND THE THIRD GENERATION
Co-edited with Jordana Silverstein and esther jilovsky
This book is the first of its kind: an exploration of the experiences of the Third Generation - the grandchildren of Holocaust survivors - who have particular relationships to the Holocaust, mediated through their interactions with their parents, grandparents, and communities. The book's editors innovatively combine scholarly work that deals with questions of trauma and its transmission across generations, with autobiographical accounts which incorporate many of the concerns raised by scholars. The contributors include historians, literary and cultural studies scholars, psychologists, and sociologists, together with autobiographical narratives from members of the Third Generation, which illuminate the scholarly research presented.
Praise for In the Shadows of Memory
''At a moment when even the last of the Holocaust survivors will soon no longer be able to speak to us directly, In the Shadows of Memory introduces a diverse third generation of grandchildren, all asking what it means to be part of another 'last' cohort, who still knew and lived among the survivors - with their trauma and their resilience - in ways that the next generation will not.they grapple with the problematic questions of 'legacy', 'generational transmission', and historical responsibility, providing us with a challenging and pioneering contribution to the future of Holocaust memory.''
— Atina Grossmann, Cooper Union
"A moving collection of essays, arising from the personal experiences of the editors and contriutors, that challenge us all to think about how we interact with the fragments of our traumatic past and the burdens that it places upon us. Essential reading for anyone interesting in Holocaust memory."
— Tom Lawson, Northumbria University